Maiden Voyage: 2013
Length: 456
Passenger Capacity: 398
Normal Crew Size: 150
Suites: 25
Dining
When dining onboard your all-inclusive Uniworld river cruise, you'll be treated to world-class cuisine made from fresh ingredients, locally sourced from the destinations you visit. Uniworld's farm-to-table approach takes their chefs to regional farms, local markets and artisanal producers to ensure that every meal is an adventure in and of itself. For those interested in healthier dining options, Uniworld's Traveling Lite menu features all of the flavor of their traditional menu, but with fewer calories. Uniworld also offers a variety of vegetarian and vegan options, prepared just for you. If you have a specific meal preference, just ask. Uniworld's chefs will be happy to accommodate.
Age Restrictions
Guest who are less than 18 years of age must be accompanied by an adult who is 21 years of age or older. While Uniworld will accept children 4 years of age and older as guests, it is their long-term experience that most children do not enjoy or appreciate the river cruise experience. There are no special arrangements, activities, medical facilities, or accommodations (unless noted) for children on Uniworld cruise/tour programs. Adult accompanying children are responsible for their behavior onboard and ashore.
Tipping
It is Uniworld's goal to ensure that the service you receive is as wonderful as the sights you see. While they are customary, gratuities, including the customary end-of-trip gratuity for the tour manager, cruise manager and crew, are not included in the price of your trip. The amount of the gratuity is entirely subject to your satisfaction with your travel experience.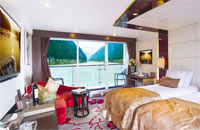 Square Footage: 415
Category Executive Suite
Executive Suite with private balcony provides every amenity from complimentary Wi-Fi and satellite TV to a cozy sitting area. Sumptuous linens drape your bed. Bathrooms with tubs offer comfy robes, slippers, and fine bath products. Individually controlled air-conditioning, and mini bar. Located on the Observation Deck.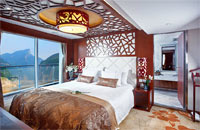 Square Footage: 1140
Category Presidential Suite
Presidential Suite provides every amenity from complimentary Wi-Fi and satellite TV to a cozy sitting area. Sumptuous linens drape your bed. Bathrooms with tubs offer comfy robes, slippers, and fine bath products. Individually controlled air-conditioning, and mini bar. Located on the Promenade Deck.

Dining Hall
Dinner is an a la carte menu featuring Western cuisine (except the Captain's farewell Chinese banquet in the main dining area). Located on the Upper Deck.

VIP Restaurant
Dinner in the Executive VIP Restaurant with complimentary wine, beer, and soft drinks served during dinner. Located on the Sun Deck.

Cinema
If you want to watch movies, there's a Cinema with plenty of seating and big screens to enjoy the show. Located on the Lower Deck.

Library
Enjoy one of your favorite novels or find a new favorite from the many books at the onboard library. Located on the Sun Deck.

Observation Lounge
Sip a glass of wine while you cruise past beautiful landscapes and world-famous landmarks on your way to your next destination. Located on the Observation Deck.

Fitness Center
All-inclusive, state-of-the-art fitness center offers everything you need for a good workout. Located on the Sun Deck.

Spa
Discover inner peace and pamper yourself at the spa with a relaxing massage. Located on the Lower Deck.

Swimming Pool
Cool off at the Indoor lap pool with relaxation area and pool bar. Located on the Lower Deck.
Hygiene and Safety Protocols
Uniworld approaches every cruise with that same thorough diligence. Stringent security and sanitation protocols onboard our ships are nothing new to us. They not only remain top priorities but are being escalated as we face the current challenge. As more information is provided from Cruise Line International Association (CLIA) and the World Health Organization (WHO) Uniworld will look to adopt their health and safety recommendations and continue to update for your added peace of mind.
SAFETY & SECURITY PROTOCOLS
All outside doors and access to the interior of the ships are locked when docked. Only registered guests can access the ship using a key card.
All guests and luggage are verified against the manifest at check-in.
Guests have 24/7 access to the front desk.
Key card scanners with facial recognition are utilized at the gangway.
Cameras are present at the entrance of the ship and in public areas, and are monitored by the reception staff.
Trained security staff are posted at the gangway 24 hours a day.
Ships are patrolled by trained staff 24/7.
All deliveries are thoroughly inspected before being brought onboard.
HEALTH & SANITATION PROTOCOLS
PLEASE NOTE: While Uniworld believes these protocols to be the appropriate steps in protecting the wellbeing of guests and crew, they will continue to evaluate and make changes if they are deemed to be ineffective or if they negatively impact the wellbeing of guests and crew. Uniworld is actively reviewing additional health and sanitation steps and will add them to these protocols upon approval.
GENERAL MEASURES:
All guests must complete a health screening prior to embarkation.
Gloves, face masks and small bottles of hand sanitizer will be readily available for each guest.
All guests and crew are required to sanitize their hands when entering public spaces, when coming back onboard the ship each day, and before each meal.
Housekeeping staff disinfect all public area touch points and hot spots throughout the day, including all handrails and door handles.
Fruits, cookies, chips, nuts, candies or other treats are now served to individual guests by the crew only. These treats are no longer available for self-service.
Disinfected wipes are available throughout the ship, including at coffee stations and in the public toilets.
Any onboard payments are processed using a contactless payment method and credit card machines will be wiped after each pin entry.
All coffee table books, magazines and brochures have been removed from public use. Guests will be able to access these reading materials via their complimentary PressReader app on their mobile devices.
Crew wash their hands frequently when handling guest luggage. Disembarkation luggage is kept separate from embarkation luggage to avoid cross-contamination.
ONBOARD DINING:
All meals are now served by culinary and waitstaff, with no self-service allowed during buffets.
All restaurant dining now has reserved seating, with guests at the same table, with the same people, each day.
To limit the total number of guests in a restaurant at a time, they have introduced two seating times for each meal.
Items that are usually shared, like bread and butter, are now served to each person individually.
All touch points, like chairs and salt and pepper shakers, are immediately disinfected after each seating.
STATEROOMS & SUITES:
All staterooms and suites are thoroughly cleaned on a daily basis.
All air-conditioning filters are cleaned and disinfected on each embarkation day before rooming takes place.
Umbrellas are now only available in rooms for individual use, with no shared umbrella stands in public areas.
In-room chocolate candy bowls are replaced at the end/beginning of each cruise.
EXCURSIONS:
All buses are cleaned and wiped with disinfectant before each use.
Face masks are also available on the buses, in addition to the staterooms.
Vox boxes are sanitized prior to embarkation and after each excursion.
CREW:
All crew receives professional health and hygiene training (HACCP) by an external consultant before each ship begins its sailing season, including training on how to look for symptoms.
All crew strictly adhere to social distancing requirements.
All crew undergo regular health screenings and are quarantined immediately if symptoms are present.
Hand sanitizer is readably available and mandated for use in all crew areas.
Crew quarters, public and private, are sanitized regularly.
All crew meals are served, with no self-service allowed.