Sanctuary Yangzi Explorer
| Sail Date | Operator | Ship | Departs | Returns | Length | Price |
| --- | --- | --- | --- | --- | --- | --- |
| Apr 17, 2020 | Uniworld | Sanctuary Yangzi Explorer | Beijing | Hong Kong | 18 | $8,499 |
| Apr 18, 2020 | Uniworld | Sanctuary Yangzi Explorer | Beijing | Shanghai | 11 | $5,499 |
| Apr 24, 2020 | Uniworld | Sanctuary Yangzi Explorer | Beijing | Hong Kong | 18 | $8,499 |
| May 01, 2020 | Uniworld | Sanctuary Yangzi Explorer | Beijing | Hong Kong | 18 | $8,499 |
| May 02, 2020 | Uniworld | Sanctuary Yangzi Explorer | Beijing | Shanghai | 11 | $5,499 |
| May 08, 2020 | Uniworld | Sanctuary Yangzi Explorer | Beijing | Hong Kong | 18 | $8,499 |
| May 09, 2020 | Uniworld | Sanctuary Yangzi Explorer | Beijing | Shanghai | 11 | $5,499 |
| May 15, 2020 | Uniworld | Sanctuary Yangzi Explorer | Beijing | Hong Kong | 18 | $8,499 |
| May 16, 2020 | Uniworld | Sanctuary Yangzi Explorer | Beijing | Shanghai | 11 | $5,499 |
| May 29, 2020 | Uniworld | Sanctuary Yangzi Explorer | Beijing | Hong Kong | 18 | $8,499 |
| May 30, 2020 | Uniworld | Sanctuary Yangzi Explorer | Beijing | Shanghai | 11 | $5,499 |
| Jun 06, 2020 | Uniworld | Sanctuary Yangzi Explorer | Beijing | Shanghai | 11 | $5,499 |
| Jun 10, 2020 | Uniworld | Sanctuary Yangzi Explorer | Beijing | Shanghai | 14 | $7,499 |
| Jun 17, 2020 | Uniworld | Sanctuary Yangzi Explorer | Beijing | Shanghai | 14 | $7,499 |
| Aug 19, 2020 | Uniworld | Sanctuary Yangzi Explorer | Beijing | Shanghai | 14 | $7,499 |
| Aug 21, 2020 | Uniworld | Sanctuary Yangzi Explorer | Beijing | Hong Kong | 18 | $8,499 |
| Aug 28, 2020 | Uniworld | Sanctuary Yangzi Explorer | Beijing | Hong Kong | 18 | $8,499 |
| Aug 29, 2020 | Uniworld | Sanctuary Yangzi Explorer | Beijing | Shanghai | 11 | $5,499 |
| Sep 04, 2020 | Uniworld | Sanctuary Yangzi Explorer | Beijing | Hong Kong | 18 | $8,499 |
| Sep 11, 2020 | Uniworld | Sanctuary Yangzi Explorer | Beijing | Hong Kong | 18 | $8,499 |
| Sep 12, 2020 | Uniworld | Sanctuary Yangzi Explorer | Beijing | Shanghai | 11 | $5,499 |
| Sep 19, 2020 | Uniworld | Sanctuary Yangzi Explorer | Beijing | Shanghai | 11 | $5,499 |
| Sep 26, 2020 | Uniworld | Sanctuary Yangzi Explorer | Beijing | Shanghai | 11 | $5,499 |
| Oct 10, 2020 | Uniworld | Sanctuary Yangzi Explorer | Beijing | Shanghai | 11 | $5,499 |
Maiden Voyage: 2018
Length: 300
Passenger Capacity: 124
Normal Crew Size: 124
Suites: 8
Dining
When dining onboard your all-inclusive Uniworld river cruise, you'll be treated to world-class cuisine made from fresh ingredients, locally sourced from the destinations you visit. Uniworld's farm-to-table approach takes their chefs to regional farms, local markets and artisanal producers to ensure that every meal is an adventure in and of itself. For those interested in healthier dining options, Uniworld's Traveling Lite menu features all of the flavor of their traditional menu, but with fewer calories. Uniworld also offers a variety of vegetarian and vegan options, prepared just for you. If you have a specific meal preference, just ask. Uniworld's chefs will be happy to accommodate.
Age Restrictions
Guest who are less than 18 years of age must be accompanied by an adult who is 21 years of age or older. While Uniworld will accept children 4 years of age and older as guests, it is their long-term experience that most children do not enjoy or appreciate the river cruise experience. There are no special arrangements, activities, medical facilities, or accommodations (unless noted) for children on Uniworld cruise/tour programs. Adult accompanying children are responsible for their behavior onboard and ashore.
Tipping
It is Uniworld's goal to ensure that the service you receive is as wonderful as the sights you see. While they are customary, gratuities, including the customary end-of-trip gratuity for the tour manager, cruise manager and crew, are not included in the price of your trip. The amount of the gratuity is entirely subject to your satisfaction with your travel experience.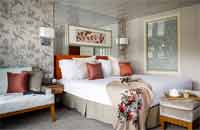 Square Footage: 333
Category Suite
Located on the Xiling Deck and Main Deck.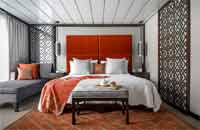 Square Footage: 419
Category Grand Suite
Located on the Qutang Deck.

Dynasty Dining Room
Enjoy fresh ingredients, locally sourced from the destinations you visit. Located on the Main Deck.

Lotus and Peony Rooms
The Lotus and Peony rooms are available for private meeting, parties or any large group gathering. Located on the Explorer Deck.

Tang Theatre
Tang Theatre is where performances and lectures take place. Located on the Xiling Deck.

Huang Ding Spa
The Huang Ding Spa offers a variety of hair and beauty treatments for you to choose from. Located on the Qutang Deck.